Please choose a default performance for quick sale mode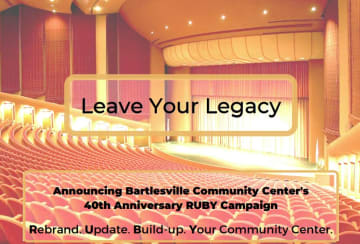 We are offering you the opportunity to leave your legacy on this historic building through a seat sponsorship campaign!

• Commemorate a loved one, business, or leave your personal mark on our beautiful theatre
• Sponsored seats feature your name on a plaque
• Seat location is on a first-come, first-served basis
• No limit to the number of seats you can sponsor
• Extended payment options available for sponsorships over $5000
Act now. Your contribution will strengthen endowment funds and ensure the sustainability of a true Bartlesville gem.
* All donations are tax deductible
* Fees are included in price listing
Price Level 1 A-K $1006.00
Price Level 2 L-U $506.00
Price Level 3 V-X $256.00
Price Level 4 Y-ZZ $106.00
Wednesday, January 31, 2024 12:00 PM
Seat Sponsor
[buy tickets]